Explaining why I love Grove City, Ohio is something I could do in my sleep. This community has always been in the center of my heart because it's where I grew up and it's where my family is. Three of my favorite reasons are…
1. It's home
Small town, I was born and raised in Grove City. I, along with my parents are Grove City graduates. I am proud to say I am carrying on the tradition, my children walk the same halls I did at JC Sommer Elementary. In fact, we shared one of the same teachers. There is a reason they say people from Grove City never leave. Why would you? It is a great place to raise a family. There is a very good chance that I went to school with many of the parents of my children's classmates. That is comfort. I love the loyalty and support we give to each other. You can bet, if you need any sort of business for hire, I know somebody here that can get it done for you. I will always support local businesses, and I believe much of my community feels this way. This is a how our ancestors built this great city, and now its our turn to keep the tradition going. Its one big family! Thru good and bad, family here extends to our town. You live in Grove City, you are family!!!!
2. Grove City Town Center
Everyday but Sunday, you will find something on the historic strip of US Rt 62 in the Grove City Town Center. No franchises here. Grove City Town Center is full of mom and pop restaurants and businesses. In one day, you can enjoy breakfast at Lillys, a salad at Tossed and Grilled, pizza and beer on the patio of Planks, a Coney at Croonies Café, a glass of wine at Plum Winery or Garden Café and dessert at Capital City Cakes. All within walking distance. You can also enjoy our library, spa, bowling, roller skating and many little shops. In the summer every Saturday morning you will find a farmers market full of a variety of vendors. Friday and Saturday evenings bring your family to enjoy Summer Sizzle Concert Series in the courtyard as the kids play. Many parades, art festivals and other events happen throughout the year here. It doesn't hurt that I am walking distance from all of this!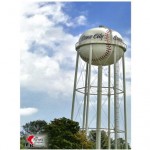 This baseball-themed water tower rises over Windsor Park's 11 baseball diamonds.
3. Family friendly events and recreation
I keep my kids busy with Official Little League Baseball, soccer, cheerleading, etc. and I always see parents running to and from Grove City's great parks. Whether you're under the "Baseball Water Tower" at Windsor Park, Fryer Park or Murfin Fields to be sure their kids are on time for practices or games. It's a great feeling to know your city revolves around our children. Some of the major activities Grove City offers are the Grove City Wine and Arts Festival, Balloons & Tunes Fest, Worlds Largest Alumni Softball Tournament, Blast at Beulah Fireworks, Art & the Alley Parade and Festival, Fall Harvest Market, Boo on Broadway, Flicks at Fryer Park, adult and children sports leagues, and not forgetting over 20 miles of paved bike paths. There is always something to do here.