I could go on for days on this topic. I'm lucky enough to say that I've lived in Grove City my entire life and have countless memories of great friends and great events here. For the sake of time, I'll just name three… but please feel free to continue the discussion with me in the comments.
1. I have grown up in this town and raised my children and now am proud to have been a Grove City real estate agent for over 30 years. Growing up it was a small town, where Beaulah Park Race Track was the main attraction. I remember how no one went anywhere between 5:30 – 6:30 in the evening because the races would end and everyone would take the same route out of town – down Columbus St. to I-71.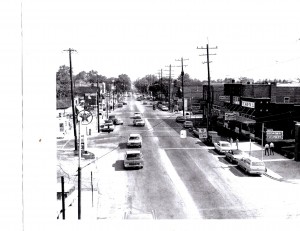 Vintage photo of Grove City Ohio. Looking north on Broadway.
We loved Zamarelli's Pizza and Rush and Opals Party House, which is now the offices of the United Grove City Methodist Church. I also remember when my dad would get up early on Saturdays to bring us doughnuts from Grove City Bakery. When you heard sirens, you always wanted to know where they were going because you knew everyone and wanted to make sure someone didn't need help. That same small town atmosphere is still very alive today. We always say "Grove City people buy Grove City homes" and it's because of that atmosphere. Even those who leave tend to find their way back as often as possible.
2. In my opinion, this is an excellent place to raise children. The schools located in Grove City have scored excellent through the state and we have several private and a parochial school located within the city limits. There is an abundance of activities for children: Murfin field for soccer and football, Windsor Park for Little League baseball (and the building of a brand new "Dream Field"), as well as the trails and picnic areas of Gantz Park. We have the YMCA with a pool and outside playground, the Rotary Lake is stocked with fish and built to accommodate all; including wheelchairs. Recently a beautiful facility was added to this area, The Eagle Pavilion, built through a partnership between Grove City Parks & Rec, Grove City Rotary Club, and the Fraternal Order of Eagles. It is a grand pavilion with an outdoor wood-burning fireplace, patio for outside seating, and a kitchen area. It's a great place for a party or function with views of Rotary Lake.
3. Grove City's location is convenient to most locations in central Ohio – Downtown Columbus a short 10 minutes, Dublin is 23 minutes, shopping at Easton in 20 minutes, Tanger Outlet Mall is just 35 minutes south, and numerous colleges are within 30 minutes. With multiple access points to 270 and 71, getting around is easy. Grove City is also unusual as it is one of the few cities that isn't land locked by Columbus and has room for even more growth.