I have to admit, I never thought that Grove City is where I'd end up calling home. Even though my dad was raised here and I've always had family here, I didn't live here for the first time until after I'd graduated high school. I always had friends here and I remember always making fun of them because they never wanted to leave Grove City… now I understand why. So if I have to pick 3 reasons why I love it here, I'll go with these: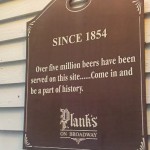 The site of Plank's on Broadway has a rich history.
1) The old and the new.
Grove City's Town Center has something that other cities try to manufacture… history. You can build new places and try to make them look old but you just don't get that authentic feel. It's hard to explain but when you're sitting on Plank's patio, sitting in a barbershop, or grabbing some ears of corn at the Farmer's Market, you can actually feel a connection the past (trust me, I know because I've sat on Plank's patio once or twice…). My wife and I live in an old house of the area because we love walking to the Historic Town Center. But just a 4 minute car ride away is every modern convenience you need in Grove City's ever expanding Parkway Center. The explosive amount of growth that corridor of town has experienced is staggering and it's anchored by the Lanny Wadkins designed Pinnacle Golf Club and its surrounding neighborhood (home of the 2007 BIA Parade of Homes).
2) Columbus.
It can't be overstated that one of the greatest things about Grove City is that we're a suburb of Columbus, Ohio. You can't throw a dart without hitting a list that has Columbus ranked high in some recent survey. People across the world are finally discovering what a hidden gem Columbus is and Grove City is an easy commute to most of it. My family and I love the urban parks of downtown Columbus (Scioto Mile, Columbus Commons) and it only a 8 minute trip up I-71. We get a season pass to the world renowned Columbus Zoo and it's only 20 minutes away. Heading to a tailgate party before watching the Buckeyes roll to another victory over that team up north? The Horseshoe is a mere 15 minute trip (well… it would be if you weren't sitting in traffic for an hour). We take advantage of Grove City's location by taking advantage of everything Columbus has to offer. Blue Jackets, Hollywood Casino, Easton, Huntington Park, Gallery Hop, Muirfield, you name it… Grove City isn't far away.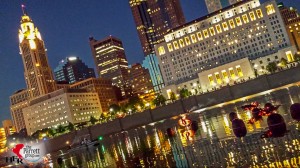 "Waterfire" is a popular draw to downtown Columbus.
3) Community.
Every good city has a sense of community about it… but Grove City just seems a little different. Remember at the beginning when I said I used to make fun of my friends for never leaving Grove City? Well if it wasn't for all of the awesome things I talked about in reason #2, that's exactly who I'd be now. I could go months without straying more than 5 miles from Stringtown Rd. and be perfectly happy about it. We always say that Grove City people buy Grove City homes and it's because once you live here and experience this wonderful community, you don't want to move away from it. People here seem to genuinely like each other are usually there to help out when you need it. I know it's where I'll be calling home for a very long time.