This one is easy; in fact I'm trying to narrow it down to the top 3 reasons why I love Grove City.
1. I was born in a small town, I live in a small town…
and I love the small town, welcoming feel that Grove City exudes despite having a population greater than 35,000 people and growing. I love the versatility of location because when I don't want to be so "small town" I don't have to be. Just a few minutes to the north and I have access to all of the big-city amenitiesthat Columbus has to offer: NHL hockey, Columbus Clippers, The Ohio State Buckeyes, The Short North trendy restaurants and shops, The Columbus Zoo & Aquarium, many big name concerts, to name a few but then I can return to where I feel home.
2. I don't know if you have heard but there's this weekend every year that nobody can do like Grove City can. The "World's Largest Alumni Softball Tournament" is held annually on the last full weekend in July. It consists of 95 teams representing seven decades of Grove City High School graduates competing for championships in six divisions. It's so much fun that Grove City alumnus from all over the country (some out of the county) return home to participate in the festivities surrounding the tournament. Even if you aren't a Grove City High School alumni you can still join in on the festivities. The Friday before the games begin there is a Homecoming Celebration in the Grove City Town Center where the streets are closed off and people congregate to listen to a live band and reunite with old friends. You can feel the energy in the streets that night. Also, chances are you have a neighbor or friend that is an alum and playing that weekend, so grab your lawn chair and go enjoy a few softball games. The games are played in several locations around town but the majority is played at either Murfin Fields or Fryer Park.
3. Now that I have a family of my own, I like all of the kid friendly activities at my disposal in town… especially Arts in the Alley weekend.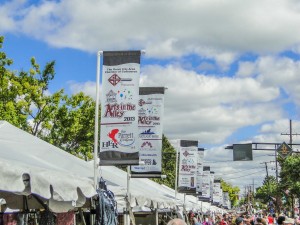 Grove City's Arts in the Alley weekend is held annually in late September.
Held in late September, Arts in the Alley is a gathering of over 100 local artists, crafters, photographers, etc. in the Historic Town Center to display and sell their wares. It's my favorite weekend to be around old downtown. In the winter when we are stuck indoors I can take the kids to World of Bounce, where they can play on indoor inflatable's or the GC Nazarene church has an indoor play area that is open to the public. In the summer there is the Big Splash and loads of fun activities in the Town Center on the weekends. Thursdays during the summer there are Fryer Flicks on the Hill, Outdoor Movie Series where movies are shown on a large inflatable screen at dusk. Throughout the year Grove City Parks & Rec has a variety of activities that you can sign your kids up for as well.
These are just a few reasons that I choose to call Grove City home, I love it here!